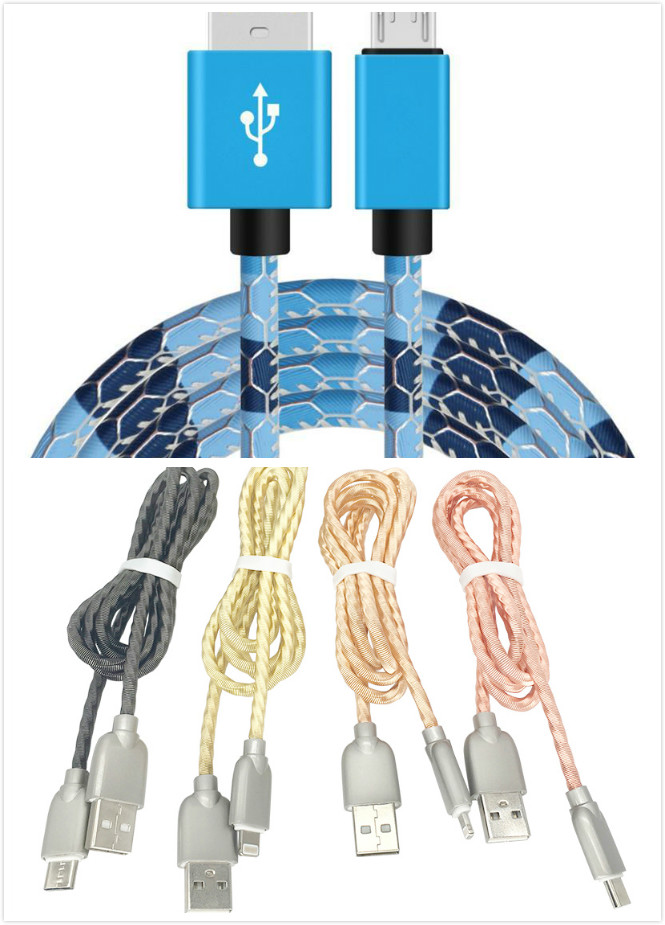 How many times have you been confused and have not known which cable should be used and for what purposes? Cables come in different lengths and sizes. One can be really confused as to why they are produced in different size shapes and types. For example, there is braided cable or the coaxial cable (that is another name of braided multi USB cables). There is another example of a different type of cable is the twisted pair cables.
Here we are going to discuss multi USB cable braided type. What is braided USB cable and what are their usages, we are going to see everything about it.
What is braided cable and why is it used?
Braided multi USB cables are basically a USB cable that is used for creating a basic connection for networking cabling. It is used for connecting two or multiple computers. These USB cables are used for transmitting data between multiple systems at the same time. The data is transmitted to network nodes with the help of connectors. The multiple USB cable braided is specifically designed for supporting data integrity and data security
Braided cables also are known as coaxial cable is made of four layers internally and it also includes the inner conductor at the base. The layer known as the dielectric insulator layer covers the inner conductor. Above this layer, there is a second layer of the conductive layer which is prepared of braided wires which actually covers the layer of inner insulation. Over these two layers is an insulating outer layer which is thin.
Additionally, it goes to and fro that means it goes both ways. The signal is transferred in one way through inner conductor and acts as the forward circuit. For the other signal to run the opposite way the braided conductive layer is provided.
To top it up, braided USB cables can be fitted even near metal object without loss of power. In other cables types the issue of power loss has been seen when it is installed or fixed near metal objects. Apparently, there is another advantage which is very important for data security. When braided USB cables are installed then you are assured of the protection of signals from the external electromagnetic interference.
Cost wise also it is friendly to the wallets and is less expensive than other cables especially the twisted pair cables. Earlier multi USB cable braided was being used for computer networking. But now it is preferably used for television and video connections.
It is also noticed that multi USB braided cable or the coaxial cables (as they are also known as) usually need a male /female connector or T connector to be connected> these types of connectors are known as BNC connectors.
Yet braided cables are very vulnerable and can get affected by signal interferences. That is why when you are experiencing a bit of wind or bad weather or torrential rain you will notice that you are facing problems with your favorite TV program transmission. And you need to wait till the weather gets cleared. Due to this vulnerability, the braided USB cable is not used for networking purposes. You cannot have continuous disturbances in transmitting data through and fro between the various systems. If there is a usage of braided cables then there is a high risk of drop ages of the pocket of data and it is very difficult to keep a track of the data that has been lost while receiving and or ending data from one system to another system. And when it comes to sensitive data then you cannot afford to take any risk. That is why there is no usage of braided us cable for office purposes like connecting multiple systems for data transmittal.
The longevity of braided access cables is higher than the customized USB cable provided the company while purchasing their product. For example, the USB cable provided by Apple while buying their smartphones or iPad does not last as long as a normal braided USB cable that you buy from a local electronic shop or order online.
The braided multi USB cables are built strong and are flexible. They do not get cracked or damaged internally if you fold them multiples time. So you can say that it is built for day to day multiple and rough uses.
Various types and brands of braided USB cables are available in the market for you to purchase from and they are priced differently. But even the costliest of a multi USB braided cable is much cheaper than the USB cable provided by the company. If you feel that your cable has been damaged enough and you need to replace it with a new one then do research in the market about the original brand of your us b cable provided by the product owner.
You will find that more often than not the braided USB cable is much cheaper than the factory produced product. Although it is cheaper than the original product, quality wise they are no differences and there are no security alerts that need to be worried about if being used for data transmittal.
Hope this article contributed by ShenZhen ShunXinda Technology Co.,Ltd was helpful for you to take an informed decision while trying to purchase a USB cable. And this time when you go and ask for a USB cable in the shop you know as to what are the requirements and reasons for purchasing a braided USB cable.
So go ahead and choose the best braided multi USB cables for both internal and outdoor purposes and get the maximum use of it, of course, make sure you go for the trusted brand that mainly manufactures the braided USB cables. There is one more reason for buying braided multi USB cables and that is the color (in fact various colors) that the cables come in. You can choose the color you like and also think about the company work that can get affected if the right type of braided USB cable is not purchased by you.
braided multi USB cables