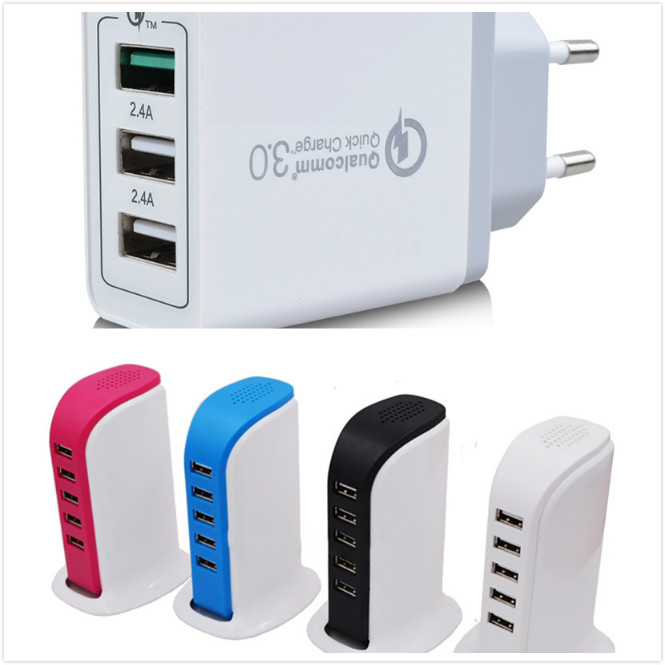 Currently using wall charger is still very common and popular in the market, regardless of the renovation of wireless charger pad. Nowadays, many smartphones have got the main problem which is quickly running out of power. USB wall charging is the ones that may perfectly charge your device very fast, and they aren't the ones to be connected to another device, but only to the walls since it is very convenient when charging.
The Charger uses only power socket from the standard wall when charging whatever the device is. Many of wall chargers currently have more than a single charging port that will help you to connect several devices at once. Their design is for portability since they are lightweight and compact; hence you can even travel with them with no problem. For the ones who have a problem when they charge their devices, then you should try out multi-USB chargers due to the reasons mentioned below:
• Wall chargers are fast and safe when charging devices. They take a short time to charge devices which enables you to use the device long enough after charging. It is the charging device that is very easy to use.
• They have multiple ports. The multiple ports are useful for charging faster many devices. You don't need to wait for a device to be completed so you can plug in another one to charge. Also, its speed of charging is the same; however devices it is charging at ago.
• They are automatically set to stop charging the fully charged devices. The wall chargers disconnect automatically from the gadgets which are completely charged; hence they can't be overcharged and be overheated. Most of the wall USB chargers have led light that indicates charging is ongoing.
• The design of the port gives one option of charging any devices and not only the phones regardless of the brands one has.
• They are very user-friendly, and their materials are safe and fireproof. They resist high temperatures too. They can be carried anywhere even when you are traveling.
The USB wall chargers fully satisfy your requirement, and you don't have to be worried at all. The charger has eliminated too your need of having the stereo or computer for charging your gadgets. They charge extremely faster as when you could have been charging with the cable connected to the computer or laptop. Despite the charger being that popular, you need to be extremely cautious when you select the one too but from the electronic shop to enable you to be in a position of getting the best USB wall charger that will meet all your needs and serve you for a long time. You need to consider the following;
1.The design
Select the best design since it is of importance especially when you travel with the charger. You need to have a flat and compact unit if you need one that you can comfortably travel with. You can also decide on the one having collapsible plugs since they minimize space. You can have others that are so compact that they only consist of the wall unit which you will only plug in the cable which matches the gadgets you need to charge.
2.Charging Ports
There are various wall chargers with a different number of charging ports. Always select the one which has numerous ports that can enable you to charge several gadgets at the same time. If you are an internet person, definitely you have many devices, and such charger will be the best for you. You can also plug the cable to charge for those ports since they depend on the designs.
3.The Brand.
There are many brands of wall chargers which you need to fully have a guide that will direct you to those brands that are of best quality ever. Each brand has a different character so select the ones that are long lasting and have good quality and are made of quality materials too. You can select the brands based on their reviews too.
4.Price.
It is very good to buy the things you afford but it's a best feeling to buy super quality things with some extra cash. Look for something that won't disappoint you in the future by researching and comparing various chargers which will enable you to get good quality, affordable wall USB chargers.
The wall chargers are the best that one can ever use to have their devices charged faster and with good condition. They are also portable and of affordable price for everyone.
Nonetheless, it is not just about weighing the pros and cons, should you be in the mood for perfect match charger, you could just reach charger customization available from either trade company or factory.