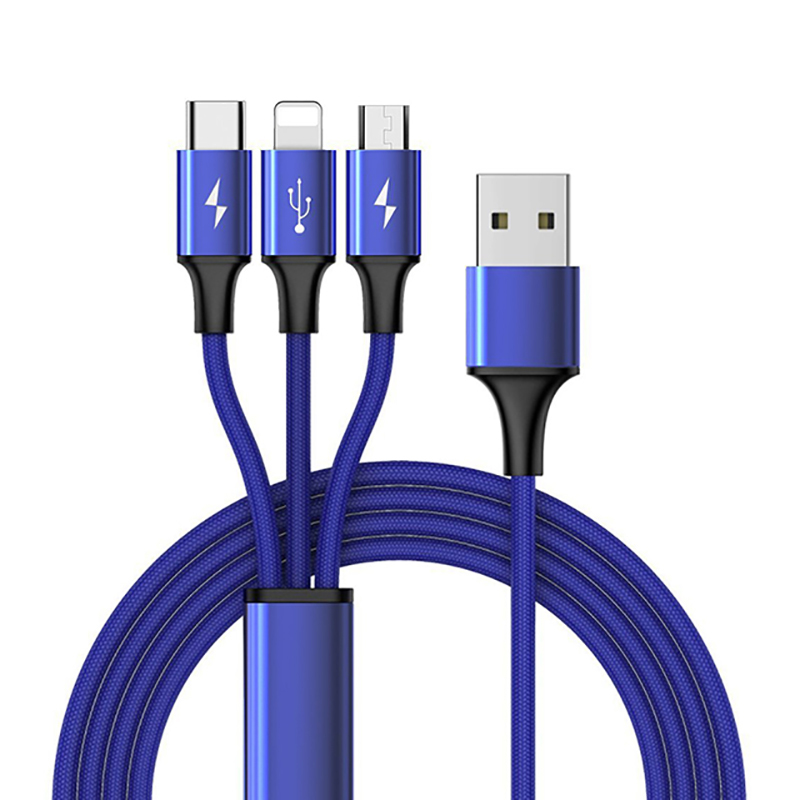 Multi-USB charging cables have been of great use since all these Smartphone brands started making different types of charging ports for their products. Some people may consider them as an unnecessary indulgence, but to people whose associates or family members have different types of devices, these Multi-Phone charging cables are really useful.
USB charging ports are being innovated almost every year with all new devices coming into the market, Type-C being the latest. Another type of cable called the Lighting type is used in all of Apple's devices, which is similar to Type-C but narrower in Width. This is because Smartphone companies do not share their tech with each other.
Why must you have a Multi-USB charging Adapter and Cable?
• All in one Charging cables are universal as they have USB 2.0 Adapter connectivity. You can use them with any charging Adapter, this way you can fast charge the devices compatible with the Adapter. But for fast charging, all you need to have is a dedicated Multi-charging Adapter, and you can fast charge all the devices at once.
• With the Advantage of Fast charging on multiple devices, the Adapters can have different current and voltage outputs according to the need of the device. For example, A 27W Turbo Charger made by A Chinese company named SXD USB cable gives five different outputs as per the requirement of the invention. (5V/3A, 9V/3A, 12V/2.25A, 15V/1.8A, 20V/1.35A)
• Besides the technical advantages over standard charging cable and adapters, Multi-Phone charging Cables give you the feature of getting more than just your device powered up at a fast pace. Suppose you have a bunch of guests or associates over, and no one wants to leave the living room just because there isn't another charging socket for them. Situations like this become easy to handle if you have this Multi charging gadget in your inventory.
Or maybe you don't want/need them?
• A critic might say that the company that made my Smartphone does not make these cables and adapters, so maybe it's not the best if I use them with my device. Well, Surely Smartphone brands will never reveal their technologies to other manufacturers, but it's not that big of a deal really as Companies like SXD USB Cables, also mentioned earlier, specialize in making these types of chargers. So, most likely, there is nothing to worry about if you use a product from a professional manufacturer like this one.
• Multi-phone charging cables are not very essential for people who do not work with more than one device. For example, for a shopkeeper who does not need more than just a cell phone to work with, these charging cables are not necessary. A person with a single device doesn't need them at his workplace. They are still utilizable at home if you have a family.
• Different types of batteries need various power supplies to charge the battery safely without doing any damage. For instance, if you have used a multi-charging adapter that gives the same output on all the cables, you could be killing the battery of your phone. Most multi-phone charging cables provide the same output on all cables so; unless you use a certified device from a professional company, your battery might be in trouble. Also, these cables don't necessarily feature data transfer function, which is another shortfall.
If you want to have an unbiased opinion about Multi USB charging adapter cable, you need to specify the type of person using it. For a professional like an IT professional or someone whose work mainly depends upon online presence on Smartphone and Laptop, it is good to have one of these charging cables on the desk. At the same time, for a person who is not very much into Smartphone, they are not very useful. But it doesn't hurt to pay for them as they don't cost a lot of money.
You might have had this experience of thinking that you don't need a product for some reason, but after you buy this, you make good use of it and realize that it is quite necessary for day to day life. In conclusion, Multi-USB charging adapter cable is a useful tool to have up your sleeve as most of us today work with many devices on our desk, and we can't find multiple sockets everywhere. More details can be found in ShenZhen ShunXinda Technology Co.,Ltd.