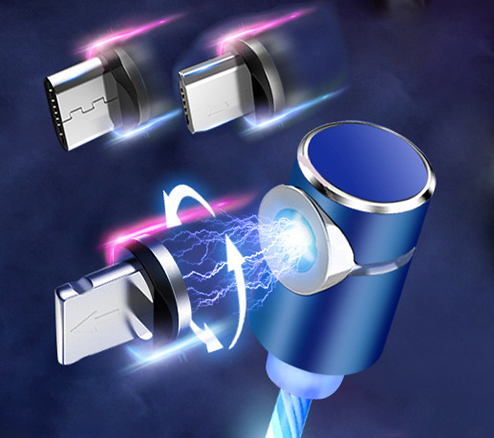 An electronic device running on a battery is useless without a charger. There are different types of chargers possible in today's world for devices, thanks to the advancement of technology. A magnetic charging cable is a great option because of its durability and convenience. Most of the magnetic charging cables have military-grade material construction, and some of them also have fast charging capacity. Moreover, they are flexible, and you can use them for data transfer as well.
This following cable is newest Led Flowing Magnetic usb cable , Compatible with most of the devices, this magnetic charging cable and has environmentally friendly materials. It is made of high-quality aluminum material and is very durable. Besides, it has PVC wires on the exterior and has wear-resistant property. It is also anti-corrosive and shock-resistant and will rotate 360°. Moreover, this has an intelligent LED indicator, which makes it easy to use at night.
This will give fast charging, and the magnetic connector will act as an anti-dust plug when not in use. Furthermore, this is for data transfer and will sync your data very fast. This will go with the most type of phones and tablets and will give driving security. You can also use it with one hand and is ideal for drivers and handicapped persons.
Moreover, it has universal compatibility and will easily go with all types of phones and tablets. This has an innovative design and will ensure that the cord will not bend.It will allow you to charge from any angle and will not damage the phone or its components. Furthermore, it comes with three different connectors, which will make it easily work with Android, iPhone, and Type-c devices. It also comes with a powerful magnet and will securely lift your smartphone.
Most of round magnetic cable is without data transfer , this is charging and data transfer cable with new design.
For more information, contact me my email or whatsapp .